Home (Page 42)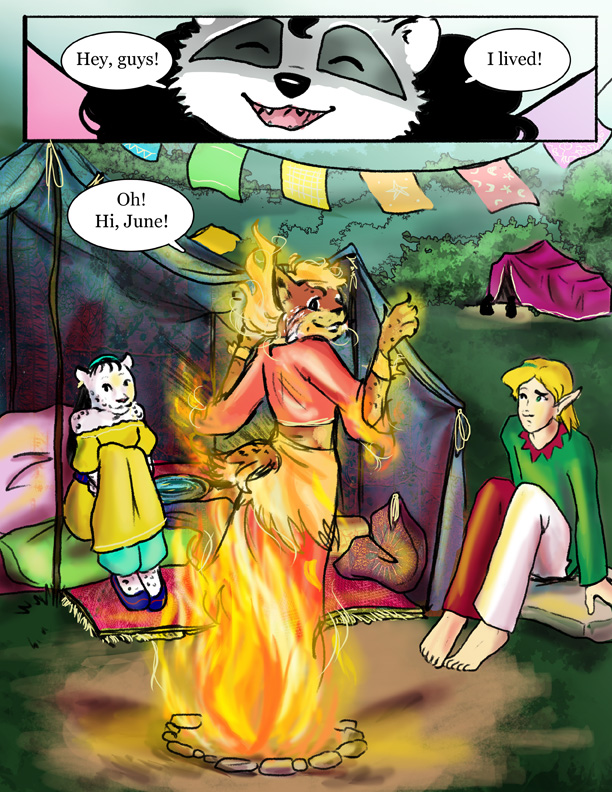 Author's Comment
A shot of some living space around Stikoda, and some proof that Kevin is indeed still alive. Kevin is not sure what to make of these shenanigans. The 'girl on fire' shenanigans, rather. Not the 'still alive' ones. Though he might be questioning that as well. I think this is the first full-body colored shot of Kevin since pre-Zanvia, and even then it was half an inch tall. Kevin's spot on this page was originally occupied by another cat girl and he and Sammy were a little more background, but considering Kevin's lack of attention, I wanted to get him out front. So background cat ladies are backgrounded once again!
You've seen Tyris, the firegirl, and Syria, the girl in the tent, twice before, as background characters on the first colored page and as two of the people Anukis mentioned as surviving Demonzara's visit to the island.
I wanted to make sure we got to see some of the places where the Stikodans sleep and hang out when they're not being randomly attacked by cat ladies or bothering Hades in his cave, hence this large page that is primarily establishing image! Also, I just really wanted to draw Tyris on fire.
Uploaded by ladyyatexel at 22:23 on 23 April
News
Posted 22:13
Thu 26 April
by ladyyatexel
Not so much news as just something to refresh the previous thing that had been there for eons.
I don't get to do this much on a schedule anymore, since my own schedule is now painfully erratic and I'm going through some rough stuff. The best place to watch for an announcement of an update is my Tumblr, which is linked up on the side of the main CK page, and on me.com proper.
Thanks to any and all~